Badgers
Badgers is taught by Miss Stocker and Mrs Pafford is the Teaching Assistant.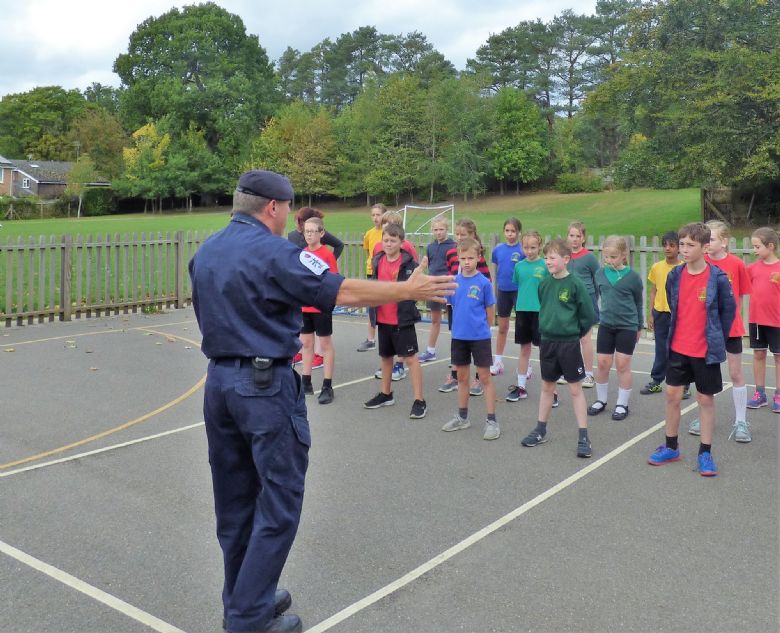 In Year 6 we aim to consolidate all the hard work of the children from throughout their years at primary school. Preparation for the SATs (Standardised Assessment Tests) in the summer term, is achieved through a variety of engaging topics. This year the children will be learning about:
A Child's War (Autumn 1) - This half term, we'll imagine what it was like to be evacuated and live with a family other than our own. Using different source materials, we'll learn about evacuation and write letters to our families 'back home'. We'll plot the Second World War's events on a timeline and learn about rationing, Pearl Harbour and the Battle of Britain. From a range of maps, we'll identify safe and dangerous places during the war and make persuasive posters to support the war effort. After reading the beginning of Goodnight Mister Tom, we will write our own diaries. From a range of sources, we'll find out about children and school during the war and learn about discrimination that existed at the time. We'll learn about what it was like during the Blitz and think about how soldiers might have felt. In D&T, we will make Anderson shelters and cook delicious wartime food.
Hola Mexico (Autumn 2) - During this half term, we will watch a traditional Mexican performance and join in with percussion instruments. To cool down afterwards, we will have a refreshing drink of sangrita or limeade. We'll use non-fiction books to find out about the importance of music in Mexican culture and have a go at folk dancing. Using our literacy skills, we will write about festivals and create an invitation to a Mexican food tasting session as if we were travel agents. In preparation, we will make delicious drinks and savoury dishes. We will learn about the 'Day of the Dead' and create 3-D skulls. With the Chihuahuan Desert as our imagined location, we'll write postcards and clear instructions for a game. We will read Mayan myths and legends, and write our own. Using maps, we'll locate Mexico and explore its natural features. We'll discover what daily life is like and how it has changed over time. Then we will craft Mayan chocolate and simple woodwind instruments from recycled materials. Who can make the highest, loudest and longest sounds?
Blood Heart (Spring 1) - At the start of our project, we will dissect an animal heart, finding out about the different parts and how the blood flows. Afterwards, we'll write a report of the experience and use software and models to learn more about how the circulatory system works. We'll use a data logger to measure our heart rates and test how it is affected by exercise. In D&T, we will make model hearts, and test materials before making a stethoscope. As part of our music work, we'll use our bodies as percussion instruments and feel our pulse. We'll learn about how smoking affects the heart and write adverts to persuade people to stop smoking. We will visit the 'Give blood' website, and make a flow diagram to illustrate the circulation process. We'll also learn about British Heart Foundation (BHF), why it is important and what their charity does. We will design our own charity event to raise money for BHF.
Darwins Delights (Spring 2) - During this half term, we're going to investigate a range of animal specimens, describing the characteristics of the creatures, and labelling their body parts using software. We'll use a range of non-fiction books to investigate adaptation, natural selection, variation and inheritance. After examining letters and journal entries written by Darwin, we will write our own examples. We will collect natural items and discover what plants live around our school. We'll retrace Darwin's steps using maps and create sketchbooks to record the plants, flowers and trees we encounter. Using maps and globes, we'll plan a mini expedition. What will the weather be like and what physical and man-made features might we encounter?
Gallery Rebels (Summer 1) - During this half term, we'll hopefully going to visit a local art gallery to view an exhibition or have a local artist come and work with us. We will talk about features of the artwork and sketch our favourite pieces. We'll research important artwork of the 19th and 20th centuries online, choosing a favourite piece of art to describe in more detail. Using maps, we'll locate art galleries around the world and calculate how much it would cost to get there. When we've gathered a range of materials, we'll make beautiful sketchbooks and use them to collect ideas and inspiration. We will create pieces of art inspired by well known artists and use search engines to source images of modern art to put into a digital portfolio. We will express ourselves through dance, poetry, stories, music and painting. Art can affect our feelings and emotions, and we'll investigate whether everyone responds in the same way. We'll also use found objects to create a surreal sculpture.
Tomorrow's World (Summer 2) - During this half term, we'll interview a web designer or blogger, investigating the process their work goes through. After looking at a range of blogs and emails, we'll write a letter to our headteacher to ask if we can create a class blog. We will learn about the history of computing, which surprisingly goes back 6000 years to the Antikythera mechanism, and find out how optical fibre cables are used. Through further exploration of modern technology, we'll learn about some of the amazing people responsible for its development. In our ICT work, we will investigate how to decide whether a website is trustworthy and what malware is. We will write a thriller based on exciting technology and learn about how robots can help us. We'll explore how to write an algorithm and how to keep safe online. Then, we'll listen to and download music and create a mock-up website. We'll learn all about lasers, and make periscopes and complex circuits. We'll investigate robotic toys and make our own.
In Year 6 the children are encouraged to take on more responsibilities and learn skills that will prepare them for the transition to secondary school. They have the opportunity to become prefects or even Head-Boy or Girl; House Captains and take part in Sports Leadership training. A week of road safety and bike skills, Bikeability, is always great fun. Towards the end of the year, after SATs, we will go on our residential to Cobnor.
Please click on the links below to see our latest class newsletter.