Badgers (Year 6)
24/11/23
Today, all Year 6 pupils will come home with a CGP SATs Buster book for Maths, Reading and SPaG. As a school, we have purchased these to help ensure that all of our pupils are SATs and secondary ready. Within each book, there is a 10 minute SATs Buster test. In helping get our pupils secondary ready, we would like all pupils to complete one test from each book as part of homework each week. They are to be returned to school on a Thursday, they will be marked and then given back out on a Friday. I have created a timetable for the coming weeks.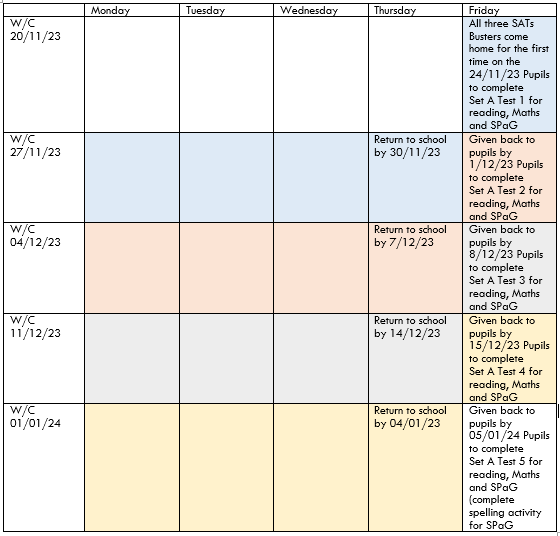 16/11/23
We look forward to welcoming you to school at 2:30 on Monday 20th November for our class assembly.
13/11/23
We are delighted to share with you the 2023-24 trips and enrichment programme on this Sway link (https://sway.office.com/zdCan1CGYcbMUck0?ref=Link). The school team have been busy securing the best coach prices as well as several grants to cover or reduce costs where possible. We are delighted to have such a fabulous range of visits which will explicitly compliment learning in history, geography, DT, PSHE, RE and science.
We do recognise that asking for any contribution can feel like a lot and would like to take this opportunity to advise that if you are eligible for pupil premium funding, we will be able to cover the costs of all day visits and visitors for you. If you think you might be eligible, please apply online at https://www.westsussex.gov.uk/education-children-and-families/schools-and-colleges/free-school-meals/
As always, there is the opportunity to pay for the year or to pay per visit. You will receive a reminder ahead of visits about payment options. We are currently swapping from ScoPay to Arbor for payments, so you will not see all trips on your ScoPay account. Details of Arbor will be sent to you next half-term and everything will be available via a single app which should make life easier for you all.
06/11/23
After an eventful first week back after half term, here is our timetable that we will follow in a typical week. As you can see, we get lots into each day. In our new guided reading sessions, each child has a bespoke session focussing on what each individual needs to support their learning. This is the case for all of our learning and it really helps to push speedy progress in our learning which we can already see!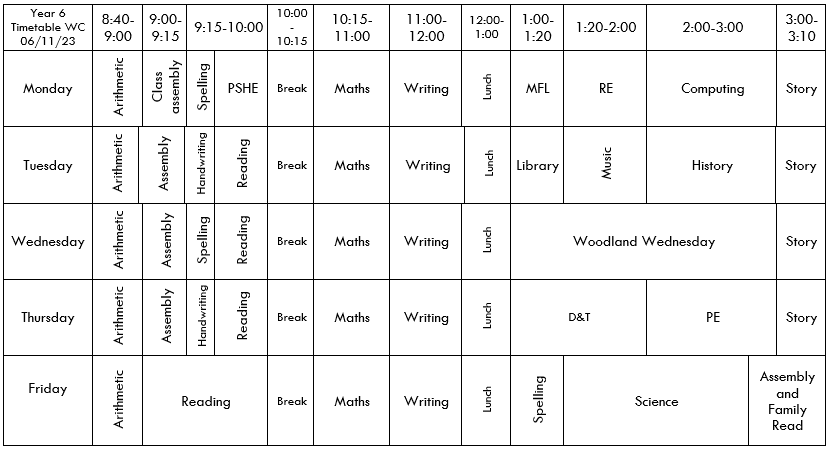 20/10/23
And with that, our first half term is completed! Year 6 have been doing fantastically well with dipping our toes into the excitement of SATs in our final week before the holiday. Remember to keep up the great work during our week long break!
Our new RKE sheets for next half term can be found here https://sway.office.com/Usq3XBOcm36WyARO?ref=Link
Calshot!
This year, we took Badger Class to Calshot Activity Centre in the second week of term!
Look at our Sway to see all our adventures!
https://sway.office.com/WRLxwzdbsdwhhdP9?ref=Link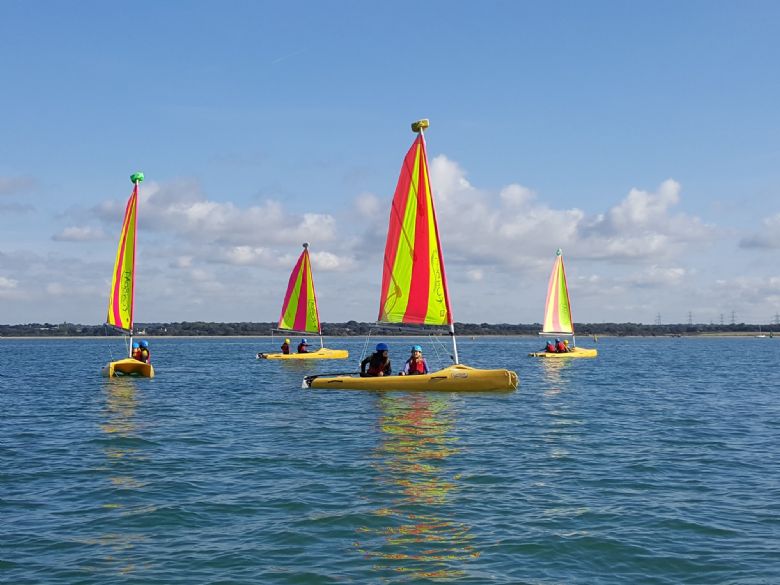 Welcome to Badger Class.
Here at Fernhurst Primary School, it is so important to use that all pupils have opportunities to do amazing things and this is no different in Year 6. Badger class go to Calshot Activity Center within the first two weeks of the term to build as a team and get ourselves ready for a year of working together to be the best we can be.
We have our PSHE, English and Maths lessons with our class teacher Miss Sarah Allen. We then spend most of rest of the day with Miss Goldup. We have PE on a Monday and Tuesday and we have that with our HLTA Miss Stacey Allen (they're not related). To ensure we are supporting our own learning, we have Remember, Know, Explore (RKE) sheets which show us what we are going to be learning, what we have already learnt which is linked and we will be building on and how we could explore and take our learning further. All of our RKE sheets for this autumn half term can be found here: https://sway.office.com/qvWCAHVABMvRTCZu?ref=Link
Engagement at home and home learning is important. We ask that all pupils read at least three times a week and it is recorded on https://go-read.co.uk/
BoomReader, Previously GoRead, is all you need to convert your reading records to digital

go-read.co.uk
If we find that we have some knowledge which is harder to remember, we can also go onto Century learning (https://app.century.tech/login/) and all pupils have an individual login and all of the learning in personalised to them. Your teacher will always mention if they have added something on but it is always worth exploring the site and accessing the personalised learning.
If you ever have any queries about any of our learning, please feel free to speak to Miss Sarah Allen or Miss Goldup.