Deer (Year 1)
Deer Class Timetable
The children join Mrs Corps for Woodland Adventures on Wednesday mornings. Miss Hill teaches the class on Tuesday afternoons every fortnight whilst Miss Ridge has subject leadership time.
Y1

8:40-9:00

9:00-9:15

9:15-10:00

10:00-10:15

10:15-11:00

11:00-12:00

12:00-1:00

1:00-1:20

1:20-2:00

2:00-3:00

3:00-3:10

Monday

Morning Maths

Class Assembly

PSHE

Reading and library book change

Break

Maths

Writing

Lunch

Phonics

Guided Reading

Music

Story

Tuesday

Morning Maths

Phonics

Guided Reading

Break

Maths

Writing

Lunch

Phonics

Computing

History

Story

Wednesday

Morning Maths

Woodland Adventures

Lunch

Phonics

Maths

Writing

Story

Thursday

Morning Maths

P.E

Break

Maths

Writing

Lunch

Phonics

R.E

DT

Story

Friday

Morning Maths

Phonics

Guided Reading

Break

Maths

Writing

Lunch

Phonics

Science

Celebration Assembly and Family Read
13/11/23
We are delighted to share with you the 2023-24 trips and enrichment programme on this Sway link (https://sway.office.com/zdCan1CGYcbMUck0?ref=Link). The school team have been busy securing the best coach prices as well as several grants to cover or reduce costs where possible. We are delighted to have such a fabulous range of visits which will explicitly compliment learning in history, geography, DT, PSHE, RE and science.
We do recognise that asking for any contribution can feel like a lot and would like to take this opportunity to advise that if you are eligible for pupil premium funding, we will be able to cover the costs of all day visits and visitors for you. If you think you might be eligible, please apply online at https://www.westsussex.gov.uk/education-children-and-families/schools-and-colleges/free-school-meals/
As always, there is the opportunity to pay for the year or to pay per visit. You will receive a reminder ahead of visits about payment options. We are currently swapping from ScoPay to Arbor for payments, so you will not see all trips on your ScoPay account. Details of Arbor will be sent to you next half-term and everything will be available via a single app which should make life easier for you all.
20/10/23
Wow, what a great first half-term we have had in Deer Class! There have been lots of new experiences and routines for Deer Class to get used to and the children have done a great job at settling down to the new way of learning. That step up from Reception is an extra big leap for little legs!
This half-term we have worked really hard at developing our writing skills, using lots of performance and oral rehearsal to immerse ourselves in different books such as Five Minutes' Peace and Knuffle Bunny to create a story about a lost toy.
We have completed our Place Value unit in Maths and have started our Addition and Subtraction unit, spending the last week looking at part-whole models and thinking about how they can help us in our exploration of numbers.
We have loved our Music unit in which we imagined we were scuba divers swimming deep down in the ocean, and thinking about what instruments we can use to represent the animals that we might find there. In PSHE, we have spent time discussing how we can keep ourselves healthy by making sure we regularly brush our teeth, as well as what we can do to be good friends and look after each other.
Our local area was the focus of our Geography unit, thinking about where we live and how it looks from above, using aerial views and maps to explore the different ways that we can view the world around us. We particularly enjoyed using Google Maps to help us find our house from above and show our friends the route we take from home to school each day!
Moving into October and the wetter, darker days has really helped us in our Science unit learning about the Seasons. We have been able to use our lovely grounds to explore the changes that are happening to the trees and weather. Many of us have loved bringing Miss Ridge the Autumn leaves that we found on our journey to school in the mornings! We are looking forward to discovering even more wonders of nature in our Woodland Adventure sessions every Wednesday morning next half-term!
We have also let our artistic skills flow and have been pleased to see our self-portraits that we have been working so hard on come to life. We learned all about the life of Mexican artist Frida Kahlo, and used her style to create our own vibrant pieces of artwork, which we are excited to be able to share with our grown-ups at the upcoming Art Gallery event in December.
Here are some photos of the other great experiences we have had this half-term, such as a visit from Zoolab and Dog's Trust: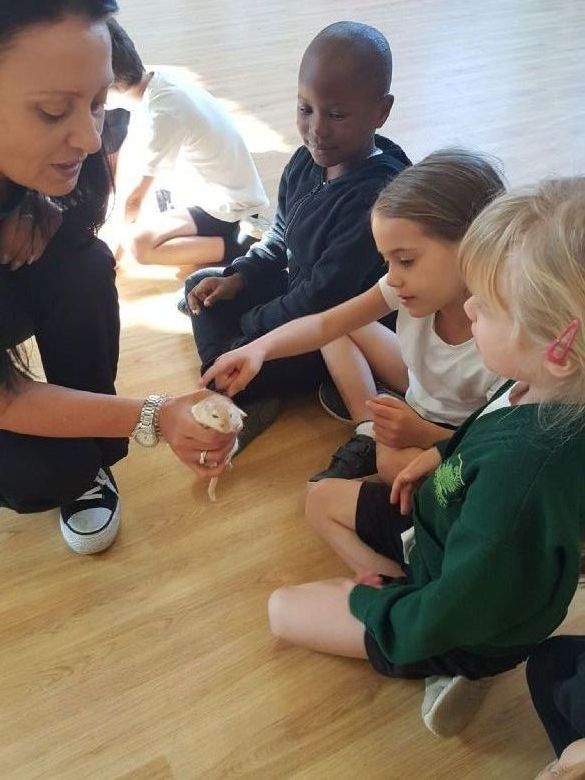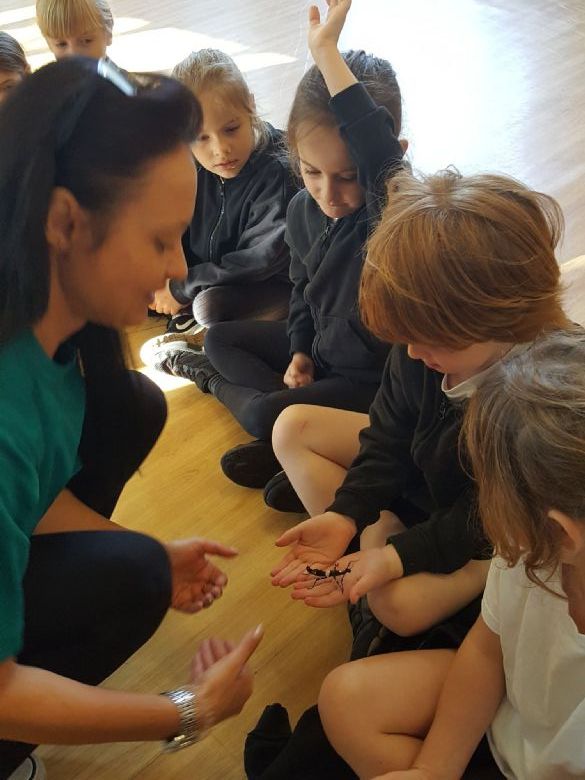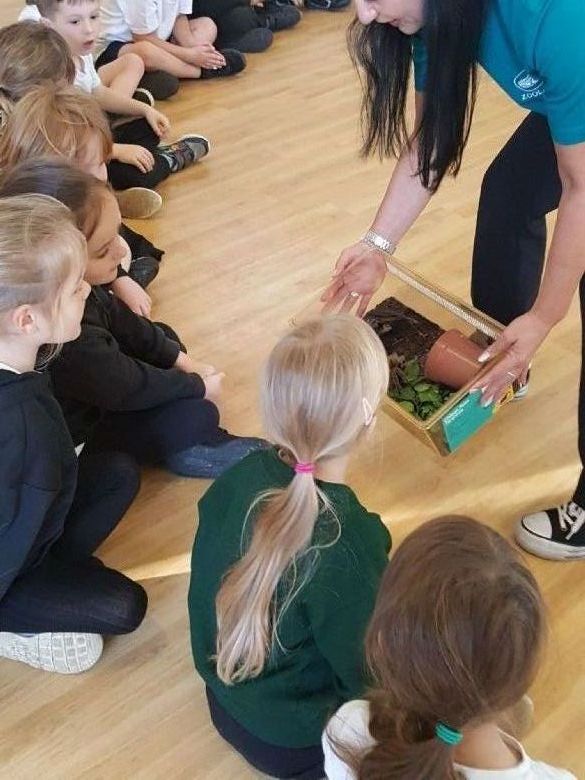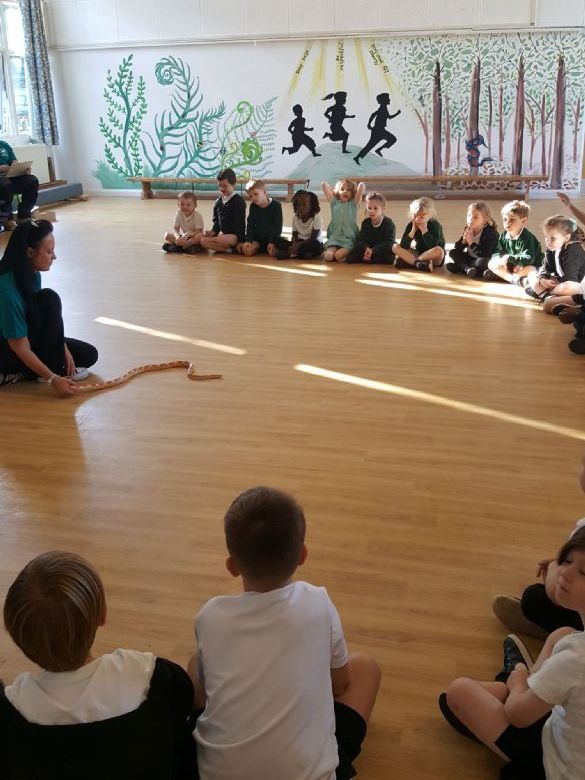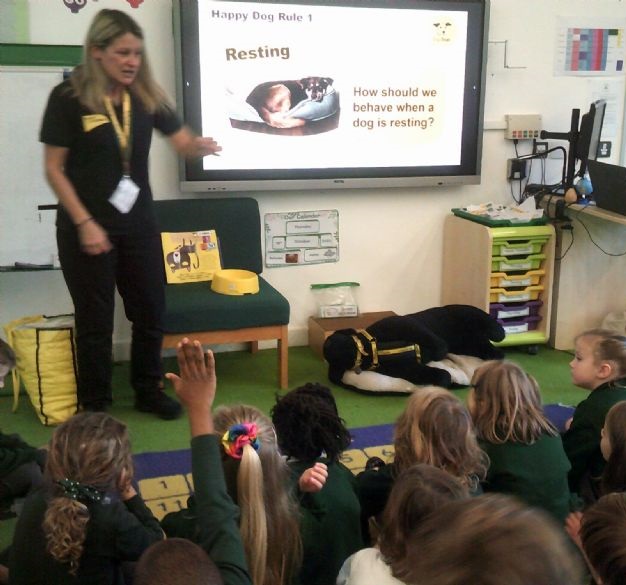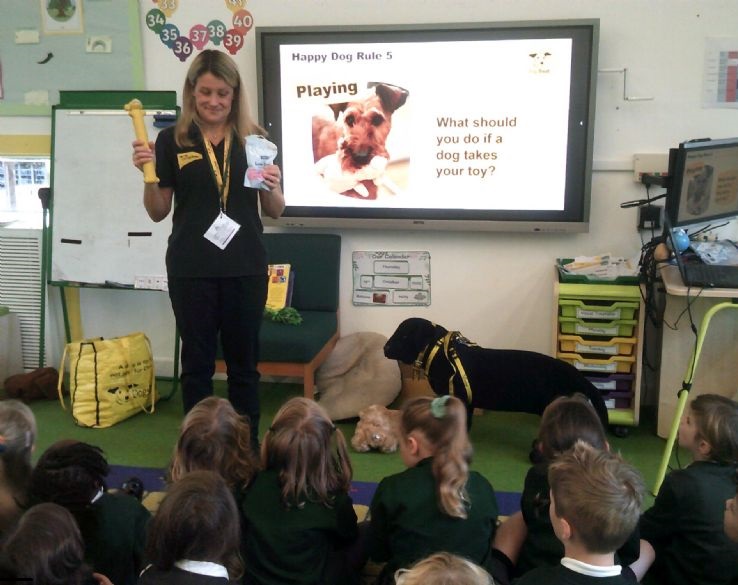 Every half term, as a parent or carer, you will receive an email with an overview poster of what we will be learning that half term. You will also receive RKE sheets (Remember, Know, Explore) for each foundation subject we will be focusing on. These RKE sheets let you know in more detail what we will be learning about and key vocabulary which will be coming across.
Phonics is a really important part of learning to read and write and in Year 1 we spend a lot of time working on it. As a school, we use Little Wandle phonics and it is fantastic! We really like all of the lessons and the reading practice sessions. We are even given a set of cards to take home to practice with our adults. Please make sure you are helping your children become fluent readers by regularly reading with them and practising new phonics sounds.
Fernhurst Primary has an 'open door' policy and Miss Ridge is always happy to chat, please do come and speak to her if there are any queries or concerns!