Deer (Year 1)
Wow didn't our first week as Deer Class fly by! We have been working really hard at remembering everything that we learned in Squirrels class about how to be good listeners and kind friends, and we are ready to begin our time in Year 1 as keen learners. During this half term, we will be continuing to develop our reading, writing and maths skills and we will also be expanding our knowledge of the wider world through our foundation subjects.
As super scientists, we have already begun our investigations into the Seasons, taking a walk around the school grounds to use our senses and discover what signs of Autumn we can see appearing in nature. We discovered that the leaves on some of our trees are beginning to turn orange and brown, which we were very excited about!
In Geography, we have also begun exploring our surroundings and are thinking more broadly about Fernhurst and what is in our local area. We have discussed how we can use maps and aerial photography to help us identify key features in our area, and also how symbols can help us to navigate. We worked in groups to identify the symbols and features on a number of different maps and made some clever guesses about what we thought the maps were depicting, from cities, to zoos, to campsites.
We have also been having some fun in Music this week, using our bodies and movement to explore sound, and learning about what tempo (the speed of a piece of music) and pulse (the heartbeat of a piece of music) means. As part of our 'Under the Sea' theme, we acted out a story about a sunny day on a beach that takes a turn when sharks appear in the water, and the swimmers and surfers have to be rescued by the speedboats! We did a great job at acting out our own parts in groups, and we even got to swap around so that we could have go at being different characters.
Finally, in Computing we are discovering that there is also another of writing: digitally! We have been exploring computers and how we use the keyboards to help us write sentences just like we do on paper. We even had a go at finding our own names on the keyboard.
We are looking forward to what learning the rest of the half-term will bring!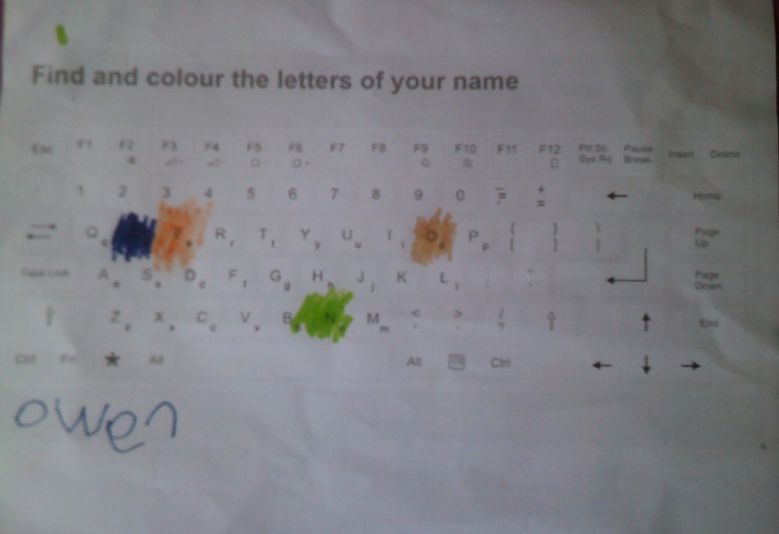 Can your child type their name on a keyboard - we have been working on this in class!
Y1

8:40-9:00

9:00-9:15

9:15-10:00

10:00-10:15

10:15-11:00

11:00-12:00

12:00-1:00

1:00-1:20

1:20-2:00

2:00-3:00

3:00-3:10

Monday

Morning Maths

Class assembly

PSHE

Break

Maths

Writing

Lunch

Phonics/ spelling/

Music

PE/PPA

Story

Tuesday

Morning Maths

Assembly

Reading

Break

Maths

Writing

Lunch

Phonics/ spelling

RE

PE/PPA

Story

Wednesday

Morning Maths

Assembly

Reading

Break

Maths

Writing

Lunch

Phonics/ spelling

Computing

Art

Story

Thursday

Morning Maths

Assembly

Reading/

Library

Break

Maths

Writing

Lunch

Phonics/ spelling

Science

Story

Friday

Morning Maths

Reading and change reading books

Break

Maths

Writing

Lunch

Phonics/ spelling

Geography

Assembly and Family Read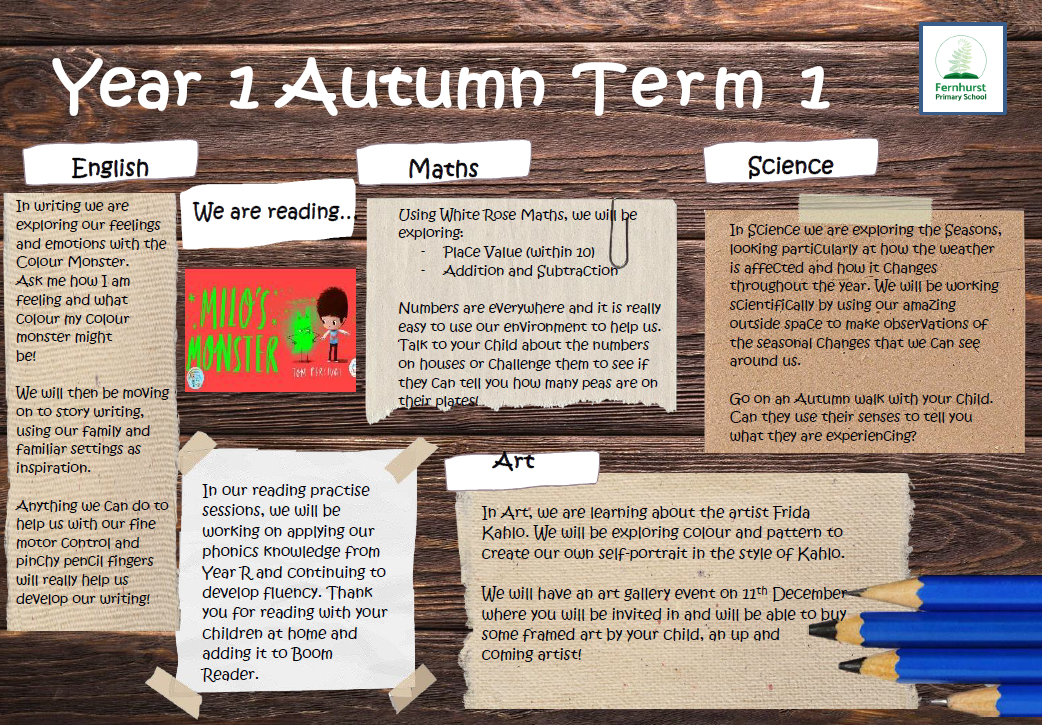 Every half term, as a parent or carer, you will receive an email with an overview poster (like the one above) of what we will be learning that half term. You will also receive RKE sheets (Remember, Know, Explore) for each foundation subject we will be focusing on. These RKE sheets let you know in more detail what we will be learning about and key vocabulary which will be coming across.
Phonics is a really important part of learning to read and write and in year 1 we spend a lot of time working on it. As a school, we use Little Wandle phonics and it is fantastic! We really like all of the lessons and the reading practice sessions. We are even given a set of cards to take home to practice with our adults.