English

Phonics
Phonics at Fernhurst Primary School is taught using Little Wandle. This has been skillfully developed by Wandle and Little Sutton English Hubs and taken forward by Little Sutton Primary School and Wandle Learning Trust in partnership with other phonics and early reading experts. The Government reviewed all of the phonics schemes available and this scheme has been named on their recommended list for schools. We are delighted that we have been able to invest £15,000 in resources during 2021-22 to support effective phonics teaching. All classroom staff, in every year group, are fully trained in Little Wandle and we deliver whole class and intervention support through this good quality programme.
Parents in EYFS and Y1 are given flashcards to support learning at home which aligns with the work being completed in class. Little Wandle have a range of additional resources and support guides that are useful - please look online at https://www.littlewandlelettersandsounds.org.uk/resources/for-parents/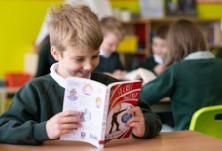 Reading
In EYFS and Y1, the reading is taught through the Little Wandle programme of study, alongside accessing high quality texts and exploring these during story time. By Y2 children are ready to expand their journey. We focus on fluency and comprehension in our guided reading lessons using a range of high quality texts. All children are encouraged to read for pleasure with a wide selection of reading for pleasure and accelerated reader books.

Writing
Writing is taught daily and follows the Hamilton Trust scheme of work. Grammar can be taught discretely but in line with when there are opportunities within the writing to apply the grammar taught. Spellings are taught using 'No Nonsense Spelling'. This is a robust programme which requires short daily lessons to ensure that the children learn and apply all of the spelling patterns to a high standard. The children from Y2 are given spellings to practice at home which link with these patterns - (downloadable below).
It is important that writing is enjoyed and as such, there are lots of opportunities to select a viewpoint to write from and writing is completed in different subjects to give a wide range of experiences.