Foxes (Year 5)
16/11/23
We look forward to welcoming you to school at 2:30 on Monday 20th November for our class assembly.
13/11/23
We are delighted to share with you the 2023-24 trips and enrichment programme on this Sway link (https://sway.office.com/zdCan1CGYcbMUck0?ref=Link). The school team have been busy securing the best coach prices as well as several grants to cover or reduce costs where possible. We are delighted to have such a fabulous range of visits which will explicitly compliment learning in history, geography, DT, PSHE, RE and science.
We do recognise that asking for any contribution can feel like a lot and would like to take this opportunity to advise that if you are eligible for pupil premium funding, we will be able to cover the costs of all day visits and visitors for you. If you think you might be eligible, please apply online at https://www.westsussex.gov.uk/education-children-and-families/schools-and-colleges/free-school-meals/
As always, there is the opportunity to pay for the year or to pay per visit. You will receive a reminder ahead of visits about payment options. We are currently swapping from ScoPay to Arbor for payments, so you will not see all trips on your ScoPay account. Details of Arbor will be sent to you next half-term and everything will be available via a single app which should make life easier for you all.
Autumn - 2nd half term
Welcome back Foxes! I am looking forward to a new half-term and some super fabulous learning.
Our PE days are: Woodland Wednesday's and Thursdays
On Friday morning, Mr Eyres teaches Year 5 whilst Miss Goldup has her PPA time.
All our RKE sheets for our subjects can be found here: https://sway.office.com/1SPkMEEHBffnKmMZ?ref=Link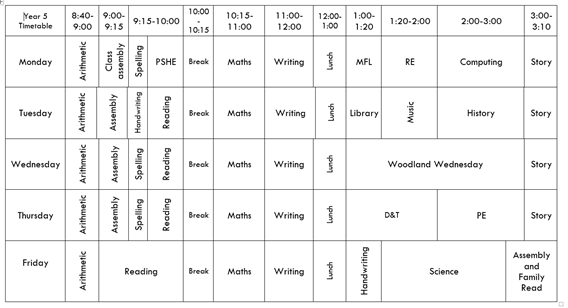 In Year 5, during week 2, we did some incredible fun learning. We started this week by starting our new writing topic and kicked off with a wow. We created our own triarama's to show a setting which would be suitable for a gothic fiction novel. As week 2, came to a close, we had great fun becoming historical investigators. We used a range of primary and secondary sources to figure out the victim of a Tudor crime. We then had to use clues to figure out how and why Anne Boleyn (our victim) was killed.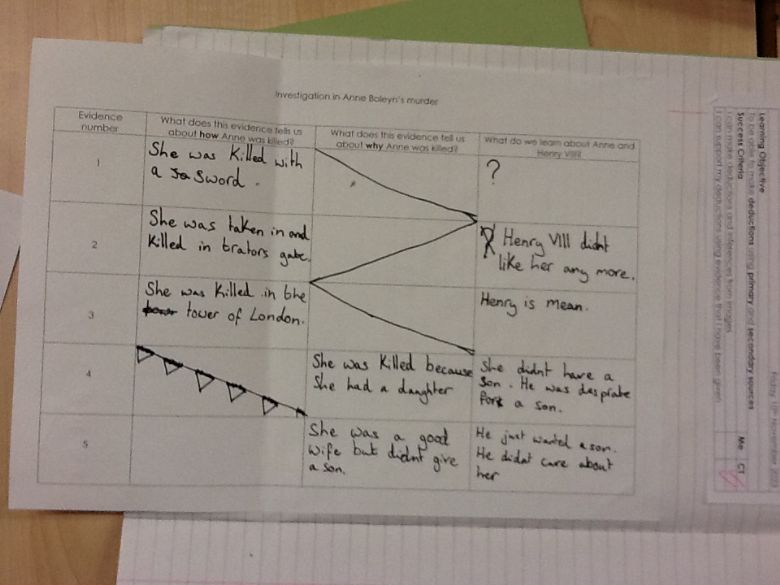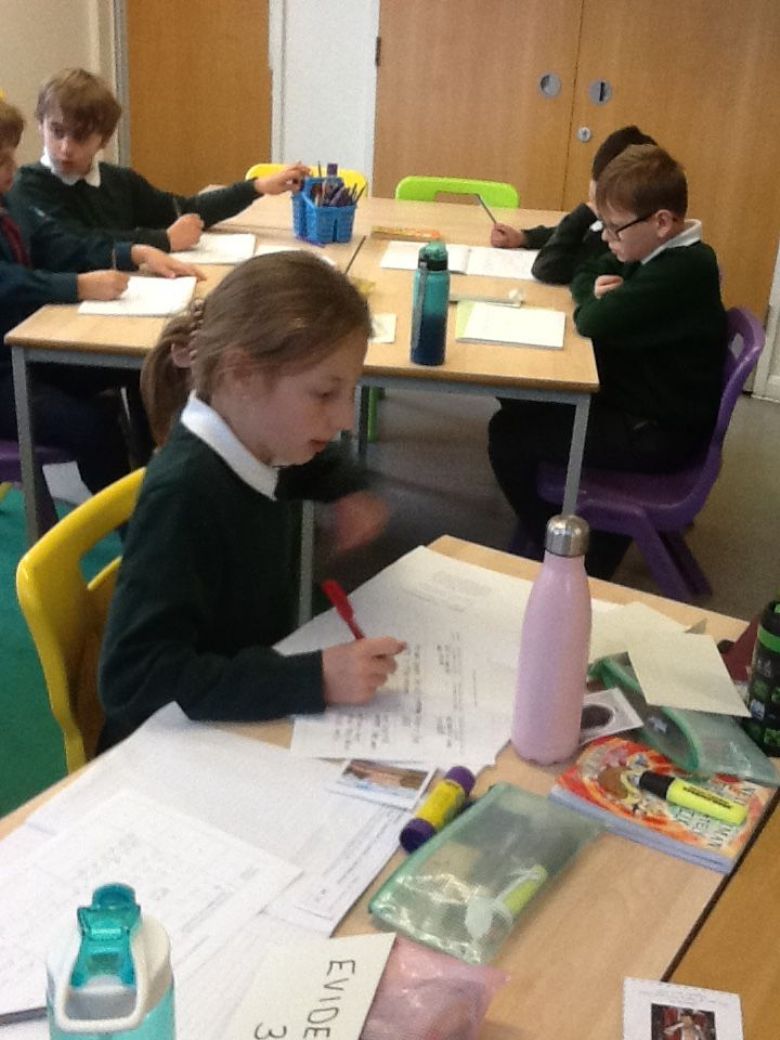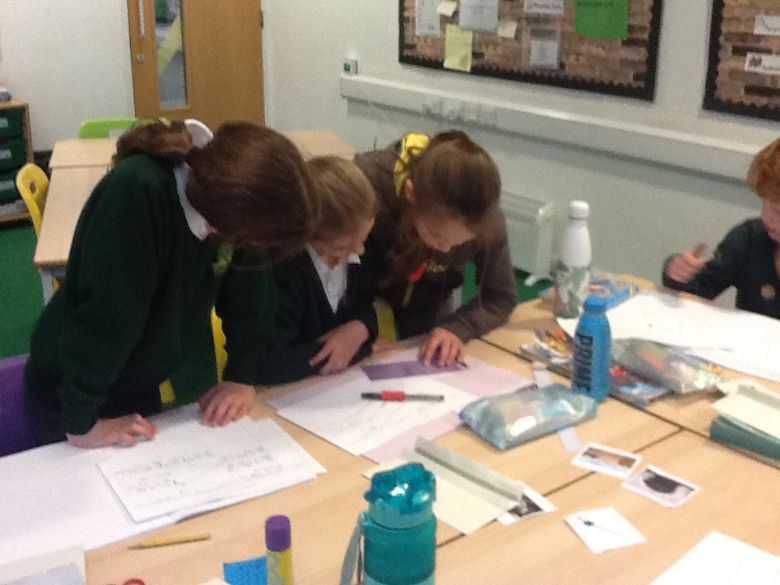 WOW, what a crazy first week back! We had great fun in the woodland on Wednesday afternoon. Lots of playing with mud and exploring together with friends. On Thursday, we did home learning due to storm Ciaran. Well done Year 5, you all coped very well with this change and did some excellent home learning.
Autumn - 1st half term
This week (week 7) we have been finishing off our final artwork inspired by David Hockney. We have all created a landscape drawing using bold colours and texture to add depth to our drawings. We look forward to sharing these with you at the art gallery.
In week 6, we worked hard to use our perseverance to develop our addition and subtraction learning. We have been learning how to understand word problems and identifying the 2 steps involved in Year 5 word problems. Please use the home learning addition and subtraction pack if you want extra practice.
During week 5, we explored the Linnaeus classification system. In small groups, we created our own classification system for birds using characteristics unique to each bird. Below are some pictures of some of the classification systems we have created.
Last week (week 4), we finished our writing topic, learning to write newspaper articles about UFOs and aliens. We have now started our new writing unit. Over the next few weeks we will be writing observational poetry about everyday objects. To start this unit, on Thursday we explored objects from nature and were looking at the details of leaves, sticks and flowers which we might not normally notice. Please see our pictures of us observing the unique beauty of nature.
During week 3, we explored different biomes to investigate why we do not have rainforests in the UK. We also found out that within the UK, we are in temperate deciduous woodland. Ask us if we can remember the features of temperate deciduous woodland.
In week 2, we have started our new writing topic about UFOs and aliens. We had lots of discussions about our views on these. We are learning the features of a newspaper article to be able to write a newspaper about a UFO or alien sighting.
In the first week, we got stuck into our new science learning by dissecting gladioli flowers to be able to see the parts of the plants involved in sexual reproduction. Please see the photos below of us dissecting our flowers.
We have PE on a Monday and Tuesday and we have that with our HLTA Miss Stacey Allen. To ensure we are supporting our own learning, we have Remember, Know, Explore (RKE) sheets which show us what we are going to be learning, what we have already learnt which is linked and we will be building on and how we could explore and take our learning further. All of our RKE sheets for this autumn half term can be found here: https://sway.office.com/qvWCAHVABMvRTCZu?ref=Link
If you have any questions about our learning, please feel free to speak to Miss Goldup.
Communication is key so if there is any aspect of school life that you would like to discuss, please get in touch.
Every half term, as a parent or carer, you will receive an email with an overview poster of what we will be learning that half term. You will also receive RKE sheets (Remember, Know, Explore) for each foundation subject we will be focusing on. These RKE sheets let you know in more detail what we will be learning about and key vocabulary which will be coming across.