Music with Mrs Gibbon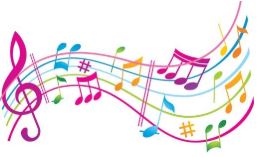 Develop your own sounds, join a sing along and appreciate the world of music. Have a go at these music challenges and get feedback from an expert... Mrs Gibbon!
Singing Challenge
Say the words to this song – can you hear the different body parts in the song? Point to them as you say the words.
Tony Chestnut knows I love him

Tony knows, Tony knows.

Tony Chestnut knows I love him

That's what Tony knows.
Can you think of other names that would fit instead of Tony Chestnut and what the actions may be? The names can be as silly as you want them to be and don't have to be connected to your body! How about Isla Wigglefoot (Is = eye, la = point to mouth to show singing, Wiggle = wiggle your whole body, foot = stamp foot)
Isla Wigglefoot knows I love her,

Isla knows, Isla knows.

Isla Wigglefoot knows I love her

That's what Isla knows.
Now for a challenge! Miss out the words one by one and sing them in your thinking voice. You should still perform the actions though. Eventually sing the whole song in thinking voice except for the words "that's what".
Making Your Own Sounds Challenge
Watch the video we made at school with some of the children.
Have a go at making your own home percussion orchestra, using any thing around the house you can tap, shake or hit!
Listening Challenge
Who enjoys David Walliams books to read? Well, he has also made some brilliant podcasts for Classic FM called David Walliams Marvellous Music. Have a listen and let us know what you think. https://www.classicfm.com/music-news/david-walliams-marvellous-musical-podcast/
Other Musical Resources for Home
Here are some useful websites to enjoy over the summer break
https://www.royalalberthall.com/about-the-hall/news/2020/april/meet-the-orchestra-with-alberts-band/
https://www.singup.org/singupathome
https://www.bbc.co.uk/teach/bring-the-noise
Performance
In this weeks singing assembly I played a piece on my piano, and I know Blue bubble want to know how many keys my piano has got! I also mentioned two different kinds of piano, an upright one, like the one in our school hall, and a grand piano.
Here is a fun video of 5 guys playing "What Makes you Beautiful" on a grand piano, but in an unusual way!!
Lockdown Music at Fernhurst
Fernhurst School Choir were preparing several songs for the spring concert and Rother Valley Art Festival before school closed. They were challenged to record themselves singing their parts. 8 children and their families took this up. Their recordings were put together and here is the finished result.
Enjoy a performance from our school choir, recorded before Lockdown began, singing "There's A Power in the Music"
Enjoy a performance from some of our school Woodwind players and Mrs Gibbon playing 'Over the Rainbow' from 'The Wizard of Oz' on Thursday during 'Clap for Carers'.