Rights Respecting School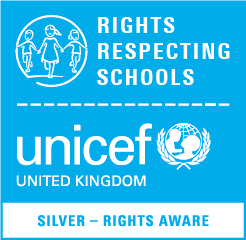 Many of you will have heard of UNICEF - the world's leading organisation who work to transform children's lives by protecting and promoting their rights. UNICEF runs the Rights Respecting School Award (RRSA) which recognises schools who have put the UN's Convention on the Rights of the Child (UNCRC) at the heart their ethos.
By adopting the UNCRC and intrinsically weaving into the school's curriculum, the school will improve the well-being of our children and develop their talents and abilities to the fullest. The school will be a place where not only their rights will be respected, but they will also learn to respect others and become empowered and active citizens and learners.
The scheme has been running since 2004 and there is now growing evidence that by following and achieving this award, it helps to improve children's self-esteem, enhance their moral development and improve behaviour and relationships. In turn, not only does this help the children, but the staff also, thereby improving the school overall and our learning and academic standards.
We are delighted to announce that in May 2018 we were awarded our Silver Award, a huge achievement for the school and one that we are very proud of. We are now working towards the Gold Award, the highest accolade awarded by Unicef.