Squirrels
Overview
Reception consists of children in their first year at Primary School. Squirrels is taught by Mrs Malt and is supported by Mrs Bell. The classroom consists of an indoor area with two rooms and an outdoor area too. These areas are set up in a way which will encourage children to experiment, develop and progress in the following areas:
Personal, social and emotional development
Communication and language
Physical development (gross and fine motor)
Literacy
Mathematics
Understanding of the world
Expressive arts and design
Exploration, experimentation and play are encouraged in Squirrels class and we aim to provide an environment where children are confident to be independent, take risks and also develop their social skills too.
Here are a few of the great things that we use/do in Squirrels class:
Tapestry: an online programme where parents can view and contribute to their children's learning journals.
Dojo Points: An online website where children have their own 'Dojo alien' and are rewarded in the class for things such as tidying up.
Talk for Writing (T4W): We will regularly be learning stories using T4W. This is a multi-sensory way of learning stories- children will be able to retell stories using actions and words along with a 'story map'. This will support their development in many of the Early Years areas including: literacy and communication and language.
Mud Kitchen: we have a lovely new mud kitchen which the children enjoy exploring and learning in.
Spring Term 2018
This Spring we will begin with our topic about Dungeons and Dragons. Children will learn all about life in a medieval castle and we will learn the names of some of the parts of castles including ramparts, moats and turrets. We will also be making posters for a lost dragon and writing instructions for how to catch a dragon. Following this, we will be learning all about Chinese New Year. We will learn about The Great Race, the story Cleversticks, dragon dancing and even try some delicious Chinese food too!
Click here to view our Class newsletter and Mindmap
Summer Term 2018
This Summer we will begin with our topic about farms called Old McDonald Had a Farm. Our key text will be 'Rosie's Walk'. Over the rest of the term we hope to also learn about superheroes, people who help us and then transitional learning to prepare the class for Year 1.
Click here to view our Summer Term documents: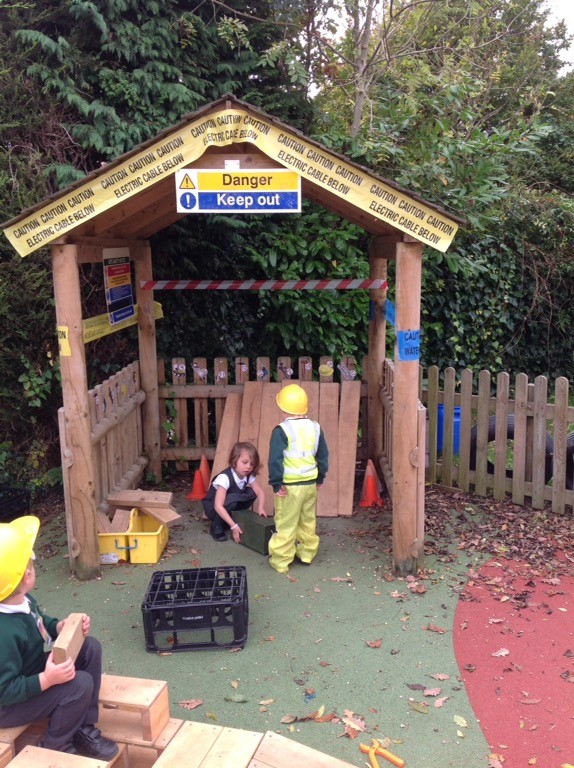 Please click
here
to see a copy of a presentation made to new parents on Helping your Child Learn to Read.