Tours of our school
The best way to find our about a school is to visit. We host open days throughout the year offering 1:1 tours for families to visit each of the classrooms, to see our libraries and extensive school grounds. Having personalised tours enables you to ask any questions relating to your child and to find our about the school with a focus on your child.
Please contact our Admin Team on 01428 653144 or office@fernhurst.w-sussex.sch.uk to book your place!
We look forward to welcoming you to our school!
Our upcoming Open Days are on: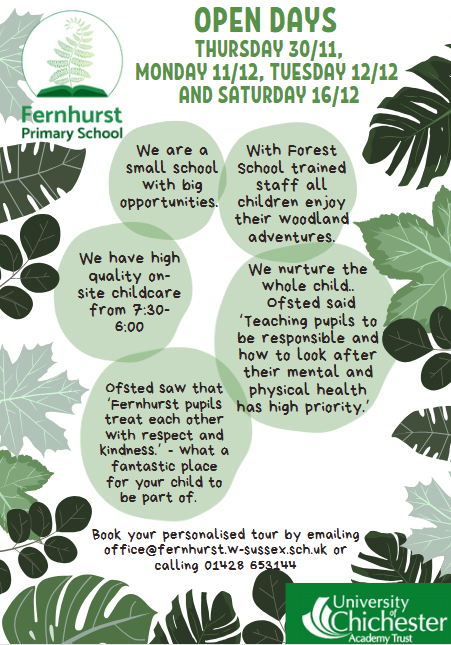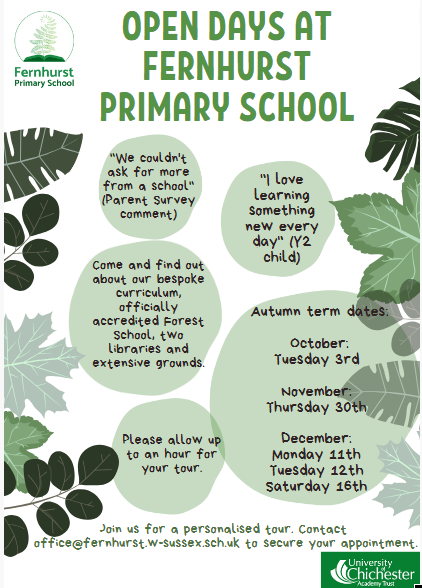 Please contact the admin team on office@fernhurst.w-sussex.sch.uk or 01428 653144 to book your appointment. If these dates are not convenient, please contact the office who will arrange an alternative appointment for you.
When you have made the decision to join us:
If your child is transferring to us from another school we will work with you to ensure that their transition is successful - please discuss the options with us when you visit.
If you are starting in reception in September:
You will receive some helpful documents. These include invitations for our new children to join us at some of our Summer Term events such as our teddy bear picnic event, SummerFest and Sports Day. We provide all children with the option to start school full time at the start of September - helping them be familiar with their new school is an important part of this.
In the Summer Term we will complete our home visits so that your children can tell us about themselves in their most familiar environment and you can share key information with us.
We visit all pre-schools, nurseries and childminders to speak with them about their knowledge of your child so that we can make sure we have a good understanding of their next steps and interests. This helps us to ensure we meet their needs from day one.
You will receive a Tapestry account in July. This is an online learning journal where we share exciting moments in your child's learning with you and you can share important things you do at home. These are set up early, before your children start, to ensure that you can let us know about changes over the summer and so that we can keep sharing things about school. Teachers will share stories throughout the summer holidays so that they are a familiar face before the September start date.